Hester Creek 2023 Harvest
A version of Hester Creek 2023 Harvest appeared in a recent article of BC harvests by Julian Park at BC Wine Trends.
The concept of a winery is a glamourous one – breathtaking views, incredible experiences and of course, delicious wines to pair with elegant meals, good friends and important milestones – but at the end of they day, the people who make up the winery are farmers – farmers who are learning by the minute how to pivot with the shifting moods of Mother Nature. Starting in December of 2022, we knew that the Hester Creek 2023 harvest would be one of note. Cold temperatures had all the vintners and winemakers in the valley questioning what their yields might add up to and Hester Creek was no exception. We knew that this growing season would be one of ups and downs and the only thing we could expect was the unexpected. This presented a new challenge to our winemakers Mark Hopley and Brooke Jesus as they learned to weather the metaphorical storms of this unpredictable season.
"It was a real learning year. We had to work to be fluid with the harvest."
-Mark Hopley, Winemaker
From early on, our team took a glass-half-full approach and took control of what we could. In essence, we planned for quality over quantity with the hope that the conditions would cooperate – and with luck, they did. The growing season was hot and bright with the highest accumulation of Growing Degree Days (GDD) for the months of April through August since 2004 (Chang et al., 2023 Summerland RDC Wine Grape Research, Agriculture and Agrifood Canada). This resulted in high-quality fruit that would lead to great wine. The high GDD meant that Brix levels made the grapes ripe for picking as early as August 25th and lighter yields resulted in smaller berries packed with more intense flavours. The lighter yields also meant that the Hester Creek 2023 harvest would finish earlier than usual on October 5th and did our last press of reds on October 17th. Though short, the harvest season was everything we could have hoped for: warm, dry conditions with impeccable fruit.
Mark Hopley described the shorter harvest season as "very compacted," with different varietals ripening at the same time – an unusual phenomenon in a typical growing season, but one that has been seen around the world in recent years. All these variables led to our team demonstrating incredible ingenuity in the production of our wines by giving more attention to detail and doing whole cluster pressing on 90% of our white wines and allowing for extended maceration periods on the red wines. And though our loyal guests may notice some of our well-known wines taking a hiatus in 2024, they will be sure to observe that we are adding new wines to the portfolio as well. While we won't reveal what those new wines are at the moment, we recommend that you head to the Wine Shop to taste and purchase some of your favourite varietals or head to our website to order wine to your door.
As we head into the cooler months, we'd like to remind you that the Wine Shop is open all year with the exception of December 25th and 26th as well as January 1st. We will also be closing early – 2pm – on December 9th so that our team can celebrate the year with our annual staff Christmas Party.
Terrafina will be open for lunch service Thursdays through Sundays from 11:30am to 4pm and dinner service daily from 5pm to 8pm. The restaurant will close for lunch service starting December 9, 2023 and will close for dinner service from December 17, 2023 to February 9, 2024. For any questions or to make a reservation, please call 250-498-4435 ext. 505.
The Villa at Hester Creek has some availability for the month of November 2023; and as of November 1, guests have the opportunity to make a reservation to stay throughout 2024 up to and including October 2024.
Thank you to all our guests for your continued support and we look forward to seeing you soon!
Cheers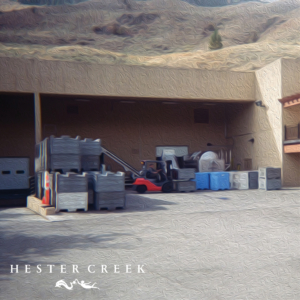 https://hestercreek.com/wp-content/uploads/2019/04/logo.png
0
0
Kimberley Pylatuk
https://hestercreek.com/wp-content/uploads/2019/04/logo.png
Kimberley Pylatuk
2023-10-31 14:46:02
2023-10-31 14:46:02
Hester Creek 2023 Harvest